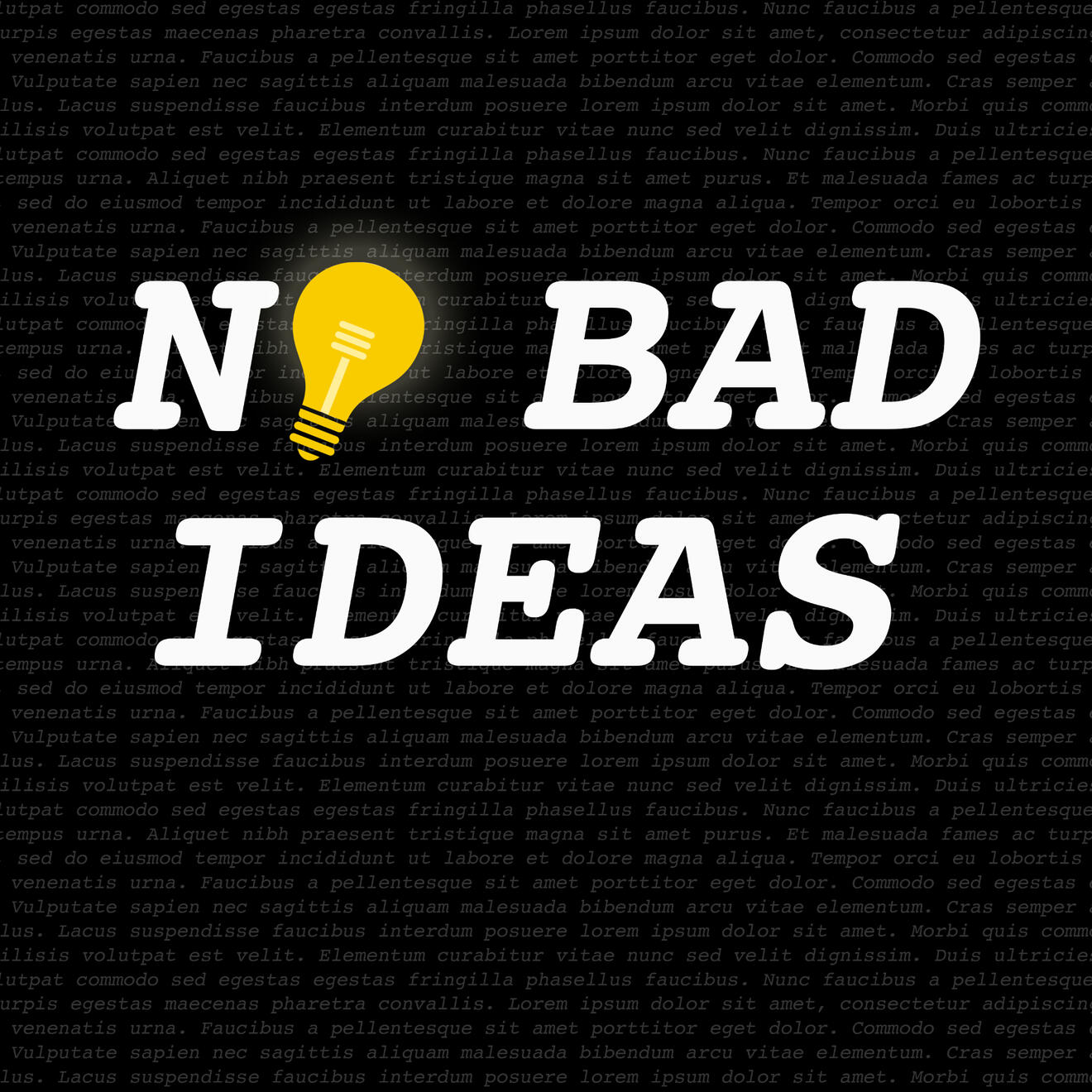 Subscribe
"No Bad Ideas"
Of course there are bad ideas. Like, a lot of them.
But any idea can become a good story.
About
No Bad Ideas is a storytelling gameshow where we take the worst ideas from the Internet and try to turn them into stories that are actually good.

It's the creation of Gabriel Urbina, Sarah Shachat, and Zach Valenti, three writer and artist-types who, in order to stay fresh creatively, have an excuse to hang out with each other once a week, and check in on what they're working on, take a terrible idea they found on the Internet each week and turn it into a compelling narrative. Or as close as they can get in 30 minutes.

If you're someone trying to be creative yourself or even if you just appreciate a good story, you'll enjoy listening to Zach, Sarah, and Gabriel figure out how to make sense of the best (worst?) absurdities the Internet has to offer. We guarantee there have definitely been worse ideas.
Episodes
Today on No Bad Ideas, the team goes to prison, gets mixed up in a housing dispute, and explores the untapped potential of using avocados as thermal detonators.

First, a Brazilian drug lord's unusual attempt to escape from prison makes way for the strangest reboot of Some Like It Hot that anyone's ever come up with. Then, a story of truly stunning passive-aggression between neighbors gets turned into a war of gauche escalation. Finally, an inventive bank robber's fruity adventures inspire a story of accidental crime and inevitable punishment. 

All of that, plus, the many weaknesses of hyper-masculine culture, extreme ways to send a message, and many a forced avocado pun. 

Today's Bad Ideas™: 

Idea #1

Idea #2

Idea #3
Transcript Coming Soon!
This week, the team brings you some bad ideas of monumental proportions, a culinary tale like none you've dug up before, and definitive proof that real criminals have curves.

First, an article about how human diets are affecting Toronto's raccoon population inspires the story of a wide-eyed, small-town raccoon chef struggling to make his dreams of culinary superstardom in the big city come true. Then, the story of a truly bizarre heist leads to a twisted tale of crime, fashion, and modern art. Finally, one sculpture's massively strange designs for his massive sculpture give way to a very familiar story with a very cold-blooded twist ending!

All of that, plus, body positivity among small furry mammals, a fajas ATM, (not) another Indiana Jones ripoff, and a tentacle-filled "A-Ha!" moment. 

Today's Bad Ideas™:

Idea #1

Idea #2

Idea #3
Transcript Coming Soon!
We're honored to be joined this week by our friend, actor extraordinaire and the official Bad Ideas Bat, Mr. Zach Libresco! Zach brings his incredible intelligence and humor to a pair of truly awful notions from the Internet, and then shares his perspective on craft and inspiration, and what it means to be really present.

But before all the philosophy, Zach Valenti introduces us to an ancient Athenian who lives (and dies!) for the applause; and Gabriel invites us to the quite diabolical rock-and-roll scene in Springfield, Illinois. Plus, #commentary, new death goals, it always being about the goats, and a Satan played by Judi Dench.

Today's Bad Ideas™:

Idea #1

Idea #2

To check out more of Zach Libresco's work, say hi to him on his twitter, @ZachLibresco, or explore his website!
Transcript Coming Soon!
Content Warning: The first story this week involves Nazi paraphernalia and war, and the second story centers on sterilization and eugenics. Check out the time-codes below if you want skip one or both of them.

With Sarah gone and a pair of pretty grim-dark ideas on the table, who else would Gabriel and Zach call to join them but dungeon master extraordinaire Josh Perault of the Taking Initiative podcast! First, Gabriel brings us to a nice little German town where a nice German man lives in seclusion... with his basement full of Nazi weaponry and a 45-ton Panzer tank? Then Zach maybe sets a new record for the badness of an idea with a family saga that has everything: betrayal, courtroom drama, vast inheritable fortunes, and (sigh) eugenics and sterilization. Then the guys ask Josh for some of his - very good! - ideas about writing, and reflect on things they've all learned in their journeys as storytellers. Plus: Severus Snape situations, Irishman Joey McGuffin, rewriting history the way that we want, and the dirty business of funding chaos.

Today's Bad Ideas™:

Idea #1 - Begins at 05:27, Ends at 19:11

Idea #2 - Begins at 22:49, Ends at 42:07

Find Josh at  @XiroxisTheBeard on Twitter, and Taking Initiative on their website and wherever fine podcasts are sold.
Transcript Coming Soon!
For appetizers, Gabriel brings us Fear and Loathing in Logan, Colorado, where we discover an amazing cocktail of whiskey, a rattle snake, and powdered uranium in a stolen automobile.

Sarah follows up with a less bizarre - but equally horrifying - plane story for our entrée, one that makes Zach curse a record number of times before the end of the article.

And, finally, for dessert, a silly, Olympic-sized fail that we hastily cram into a train.

Here's to that feel when uranium is any card in a local situation, when no one else is locked into the pitch-black plane with you, and nobody appreciates your gravity-defying leaps.

Today's Bad Ideas™:

Idea #1

Idea #2

Idea #3
Transcript Coming Soon!
This week, we're joined in the studio by Lindsay Amer of Queer Kids Stuff for two bad ideas and a roundtable discussion.

First, we bring a Scooby-Doo-style ghost hunting gang into the YouTube Era as they form an unlikely alliance with an eccentric horror writer fighting off the bank from foreclosing his historically haunted mansion.

Next, faced with an animal rights nightmare from the 1930s, we avoid "Green-Booking" the situation with Hugh Jackman and look for a more nuanced way to approach people with lions in motorcycles racing on walls in the circus with a non-zero amount of mauling.

Finally, we chat with Lindsay about finding universality as storytellers and get a sneak peek into her new fiction storytelling projects.

Today's Bad Ideas™:

Idea #1

Idea #2

Today's Idea Worth Sharing By Lindsay (AKA Her TED Talk):

https://www.ted.com/talks/lindsayamerwhykidsneedtolearnaboutgenderandsexuality?language=en
Transcript Coming Soon!
This week, Sarah, Gabriel, and Zach prove once again the mind-meld is real as we find ourselves with a full set of body-horror bad ideas.

First, we delve into some Cthulhu shit after finding too many teeth in too many walls. Next, we plot out the scam of the century - just not this century - and, boy, does it get hairy. Finally, will we find a way to parlay the grim origin of the chainsaw into a satisfying story?

Plus, a dark god seeking an avatar body, Gunther screwing up again, and stories safest in print.

Today's Bad Ideas™:

Idea #1

Idea #2

Idea #3
Transcript Coming Soon!
This week, Sarah and Zach are joined once again by Gabriel, returned from vacation.

First, we explore all our A.I. feels and once again crib from one of our eternal faves, Gattaca, with a robot that must pretend to be human to follow its dreams. Then, we go through the Snapchat-looking-glass to discover the Grumpy Cat of politics. And then we explore what happens when a small community tries to get rid of time… just for a bit. Plus, mistaking cat pictures for guacamole, a day with no end, cat filtering deep fakes, and a non-zero amount of people yelling at this podcast.

Today's Bad Ideas™:

Idea #1

Idea #2

Idea #3
Transcript Coming Soon!
This week, Sarah and Zach are joined by the multi-faceted podcaster and wrestler Julia Schifini, of Multitude and The Whisperforge.

First, one of the more delightfully creepy turns we've had in a bit as we transform a poorly placed 911 call into a full-blown Sweeney Todd situation. Then, one of the most objectively dangerous ideas we've had to-date, inspiring a very Nick Cage like spectrum of emotions. Plus, an unstoppable casual dining for cannibals, real guns being unfortunately less expensive than prop guns, and the 411 on #20FightTeen.

Today's Bad Ideas™:

Idea #1

Idea #2

Follow Julia over on Twitter and check out her podcast, Spirits, wherever quality podcasts are sold.
Transcript Coming Soon!
This week, Gabriel is away but Sarah and Zach are joined by none other than voiceover actor and writer Kristen DiMercurio, of Ars Paradoxica and Archive 81 fame. Kristen helps us tackle a pair of true-life tales. First, one of the silliest bad ideas we've had in a while, why a hippie community police force has a very specific agenda for Ann Arbor, MI. Then, one of the most objectively bad ideas we've had in a while, why tourists taking selfies on indigenous monuments means we can't have nice things. Plus, Wes Anderson vibes, secret Instagrams, completely imagined crimes, and Ellen Degeneres: Gay Santa.

Today's Bad Ideas™:

Idea #1

Idea #2

Follow Kristen over on Twitter and check out the new audiobook she narrated, These Witches Don't Burn, wherever fine audiobooks are sold.
Transcript Coming Soon!
Welcome to Episode 30! The gang celebrates this completely arbitrary milestone by picking three awful ideas to throw at each other for ten minutes each. First, Sarah challenges the boys to see what they can make of the power of free beer. Then, Zach clues us all into a possible supernatural conspiracy in the halls of New Zealand's government. And finally, Gabriel gifts Zach and Sarah with a completely legitimate golden ticket and its $500 price tag. Plus Gabriel's Australian accent, Zach's cover of Twisted Sister, and Sarah's desire to shoehorn kegs into all the action sequences.

Today's Bad Ideas™:
Bad Idea #1
Bad Idea #2
Bad Idea #3
Transcripts coming soon!
Our May experiments continue with two of the grossest, most horrifying, and most hilarious ideas the gang has tackled yet. With only fifteen minutes on the clock, first Sarah and Gabriel have to grapple with an unusual, alchemical way to get rich quick from Zach. Then Zach and Sarah have to contend with a startling home invasion story courtesy of Gabriel. Plus, the historical applications of urine, a cackling Alexa, late stage capitalism, and, obviously, a full page ad in Goop.

Today's Bad Ideas™: 

Phosphorus Starts With Pee

Oregon Man Called Police About A Burglar, Armed Officers Found A Rogue Roomba
Transcripts Coming Soon!
In this episode of No Bad Ideas, an experiment! In an effort to shake things up, the gang has brought not one, not two, but three bad ideas to the table and will try to turn each of them into stories in just ten minutes. How will our heroes cope with a criminal's job interview, a library full of taxidermic animals, and the perils of pulling over an undercover cop? You'll just have to listen to find out. Plus, sleep-stealing, the punishment for fracking, yet another deeply traumatizing family movie, and our favorite superhero, Florida Man.

Links:

Dumb Robber Interviews For A Job At Police Station

This Library in Anchorage Lends Out Taxidermic Specimens

Florida Man Pretended To Be An Officer

Let us know what you think of this episode format by getting in touch with us @feartheshame on Twitter.
Transcripts Coming Soon!
This week, Zach brings us a violent chapter of Chinese history that Gabriel and Sarah spin into conspiracy and intrigue in the Catholic Church. Together, the Bad Ideas squad imagine the pettiest hypothetical coup Vatican City will never see. Plus, staged escapes from heaven, Jude Law's sexy beach pics, and shot-for-shot remakes of classics.

LINKS:

Today's Bad Idea™
Transcripts Coming Soon!
On today's episode... Sarah is away, but Gabriel and Zach are joined by Eli Barraza, creator of The Far Meridian! The three of them go on an odyssey of truly blasphemous proportion, following two embezzling nuns on the gambling, binge-drinking, hard-sinning Las Vegas trip of a lifetime. Sister Act meets the Hangover in this battle of good, evil, money, chance, destiny, and souls. Plus, God-like presences, the letter of the law, and The Divine Comedy (The Casino).

LINKS:

Today's Bad Idea™

Follow Eli on Twitter and check out her show, The Far Meridian.
Transcripts Coming Soon!
This week, Eric Silver - co-host of Horse, Dungeon Master for Join the Party, and all-around great Multi-Dude - joins the Bad Ideas team for a harrowing story of survival at sea and capitalistic conspiracy. But most alarming of all, the team takes on the challenge of spinning this yarn into their first video game pitch. Plus, oil companies that just don't give a shit, great skips, and the fact that the world isn't going to change because of a C+ grade. 

LINKS:

Today's Bad Idea™

Follow Eric over on Twitter, check out his shows Horse and Join The Party, and learn about Multitude's other fine podcasts.
Transcripts Coming Soon!
Before you listen to this episode, make sure you read the terms and conditions. Go and read them, right now. 

...

Did you do it? Great! That makes you smarter than the people in today's bad idea anecdote, who all signed away something very valuable just to get some free WiFi access. How can Zach, Sarah, and Gabriel turn these impulsive bad decisions into a compelling narrative? Plus, epistolary novels, daemons, the Great Forever, and the master of the universe. 

Today's Bad Idea™
Transcripts Coming Soon!
This week, Sarah brings us a tale from the exotic world of art thievery, where everyone is super cool and sophisticated… everyone, that is, except for the thieves. What will Gabriel and Zach make of an entire town in on a police sting operation? And how many explosions will it involve? There are definitely more twists than you think. Plus, roles definitely played by Jason Statham, agents of chaos in the background, a fistful of art historians, and revolutions which will not be monetized.

Today's Bad Idea™

Today's Shameless Plug™
Transcripts Coming Soon!
This week we take a trip back to a faraway time when news could be faked and editorial controls were suspect at best. We, of course, are talking about the 19th century and are delighted to be joined this episode by Amanda McLoughlin, co-founder of Multitude, co-host of the shows Spirits and Join the Party, and all around badass podcaster. From the darkest corner of Reddit to the cobbles of Fleet Street, we take Zach's trollface idea all kinds of places. Plus, monetization strategies, sticking it to the man, obligatory Walt Whitman tangent, knowing that the French Revolution happened… and that's it.

LINKS:

Today's Bad Idea™

Follow Amanda on Twitter, check out her shows Spirits and Join The Party, and learn about Multitude's other fine podcasts on their homepage.
Transcripts Coming Soon!
This week on No Bad Ideas: a first for the show! In today's fan-sponsored episode, Gabriel, Sarah, and Zach have to go head-to-head with a bad idea chosen by our listeners! Thanks to Marci, Seirra, Chuck the Bard, and The Empty Man for supplying this one. So strap in, grab your broadswords, and get ready to go on a madcap adventure of dark lords, gallant heroes, and LSD. Plus, the unspoken line between the supernatural world and the world most people live in, high high elves, and cautionary tales about why you should always be nice to your interns. 

Today's Bad Idea™
Transcripts Coming Soon!
Another week, another amazing guest to help us tackle a truly terribly idea! This time, Todd VanDerWerff, critic-at-large at Vox.com and co-creator of the podcast Arden, has signed up to help us unpack the real-life trend of hiring fake friends to save face at your wedding. We toy with keeping up appearances and/or burning it all down. Plus, the perils of rock climbing, the defeat of The Patriarchy, and when having it spoiled somehow makes it better.

Links:
Today's Bad Idea™

You can check out Arden and Todd's work at Vox, and follow him at @tvoti on Twitter.
Transcripts Coming Soon!
This week on No Bad Ideas... bugs, bugs, bugs! But before that, the Bad Ideas Band is joined by their dear friend Christian T. Kelley-Madera, co-creator and director of The Once and Future Nerd. But soon, it's all business, and (thanks to Sarah's bad idea contribution) that business is a truly unhinged tale of illness and entomology in the Caribbean. Plus, cockroaches bent on world destruction, the wrong way to eat a Reese's, and a very different kind of Cuban crisis.

Links:
This Week's Bad Idea™

Listen to Christian's Work at The Once and Future Nerd

Follow Christian On Twitter: @Ctmadera
Transcripts Coming Soon!
A wild Mike Schubert has appeared! And he's here to help Gabriel and Sarah wind their way through a twisty courtroom mystery, courtesy of Zach Valenti. Just who was it that really killed the defense's surprise witness? And how do the lives of twelve jurors depend on one single security camera? It's a locked room murder mystery, No Bad Ideas-style! Plus a young, plucky lawyer, #Sheriffed, and the world's highest stakes game of Mafia.

Links:
This Week's Bad Idea™

Mike's Podcasts: Potterless and HORSE.
Transcripts Coming Soon!
This week on No Bad Ideas, Zach, Sarah, and Gabriel are joined by author and podcasting pioneer Mur Lafferty! Together, they dive into the story of one of Europol's strangest schemes for catching criminals. From there, things only get weirder as the team descends into the world of Caribbean real estate development and the philosophical quandary of honey, vinegar, and their respective fly-catching abilities. Plus, vampire parades, tourism at all costs, and a whole new level of Good Cop/Bad Cop.

Links
This Week's Bad Idea™

Mur Lafferty's Website

Mur Lafferty's Twitter: @mightymur
Transcripts Coming Soon!
My fellow podcasters! We here at No Bad Ideas promise that we will find an idea on the Internet, bring it to our group of NY-based writer ne'er do wells, and give them 30 minutes to turn it into a good story - and this time our bad idea is a series of deeply strange campaign promises in the 1930s. Plus, Gabriel's French accent, what the universe rewards, and the elimination of poverty... after 10pm.

Links
This Week's Bad Idea™
Wil Williams' Article on Parasocial Relationships
Dylan Marron's Conversations With People Who Hate Me
Transcripts Coming Soon!
Another week, another terrible idea that someone in the world once had, and which we must now somehow turn into a compelling story. On today's episode, Zach brings Sarah and Gabriel the story of a man who was running late, forgot his keys, and resorted to truly unbelievable and desperate measures to get to work. Plus, Comedy Airport editions, pure adrenaline, and thorny situations. 

Today's Bad Idea™
Transcript Coming Soon!
Welcome back to No Bad Ideas, the show where we take bad ideas from the real world and try to turn them into good stories (and the points don't matter). This week, Gabriel takes Zach and Sarah on a wild journey to the seedy world of San Antonio aquarium heists. What is the most dangerous thing you could try to steal? And what is the most ridiculous way you could steal it? Plus illegal exotic pet farms, Oceans 11 as a pun now, and the place where everything good was stolen from somewhere else.

Today's Bad Idea™
Transcript Coming Soon!
Welcome back, everyone! New year, same old set up: we find some bad ideas, and then bang our heads together until we've figured out how to turn them into a good story. This week, Sarah infects Gabriel and Zach with the idea behind a truly (and thankfully) one-of-a-kind museum. Plus, much more ado, chaotic agents, and the closest you're going to get to death without actually dying. 
 
Links:
Today's Bad Idea™
Transcript Coming Soon!
Happy Holidays, everyone! As an end-of-year present to ourselves, we brought our first guest on the show: actress and performer extraordinaire, Michelle Agresti! Michelle worked with us on our audio drama series Wolf 359, and she brings to the table a bad idea unlike any we've tackled before. Grab your smart phones, boot up your Instagram filters, and get ready for a rom-tragi-com, No Bad Ideas style! Plus, happy endings (for some people), the world's best/worst wingmen, and Peonies for Algernon.

For more of Michelle's work, do yourselves a favor and check out Arden and Hit The Bricks.

Links:
Today's Bad Idea™
Transcript Coming Soon!
About Us
Gabriel Urbina - Gabriel Urbina is a Costa Rican-American writer, filmmaker, and science fiction lover. When he's not too busy taking dictation from the voices in his head, Gabriel juggles, has strong opinions about movies, and sleepwalks an alarming amount. He lives in Brooklyn. Learn more about him on his website and follow him on Twitter.

Sarah Shachat - Sarah Shachat is a writer and editor from New Orleans, even though she doesn't sound like it. She writes audio fiction, creative nonfiction, picks apart old films and tv shows, and drinks a lot of black tea. She knows, she knows, she doesn't have a website, but you can say hi to her on Twitter.

Zach Valenti - Zach Valenti is an artist and entrepreneur based in New York City. He is currently working as a filmmaker, author, voiceover artist, and full-time nerd. Learn more about Zach on his website and follow him on Twitter.
Music in No Bad Ideas comes from State Shirt and Jahzzar via Free Music Archive.