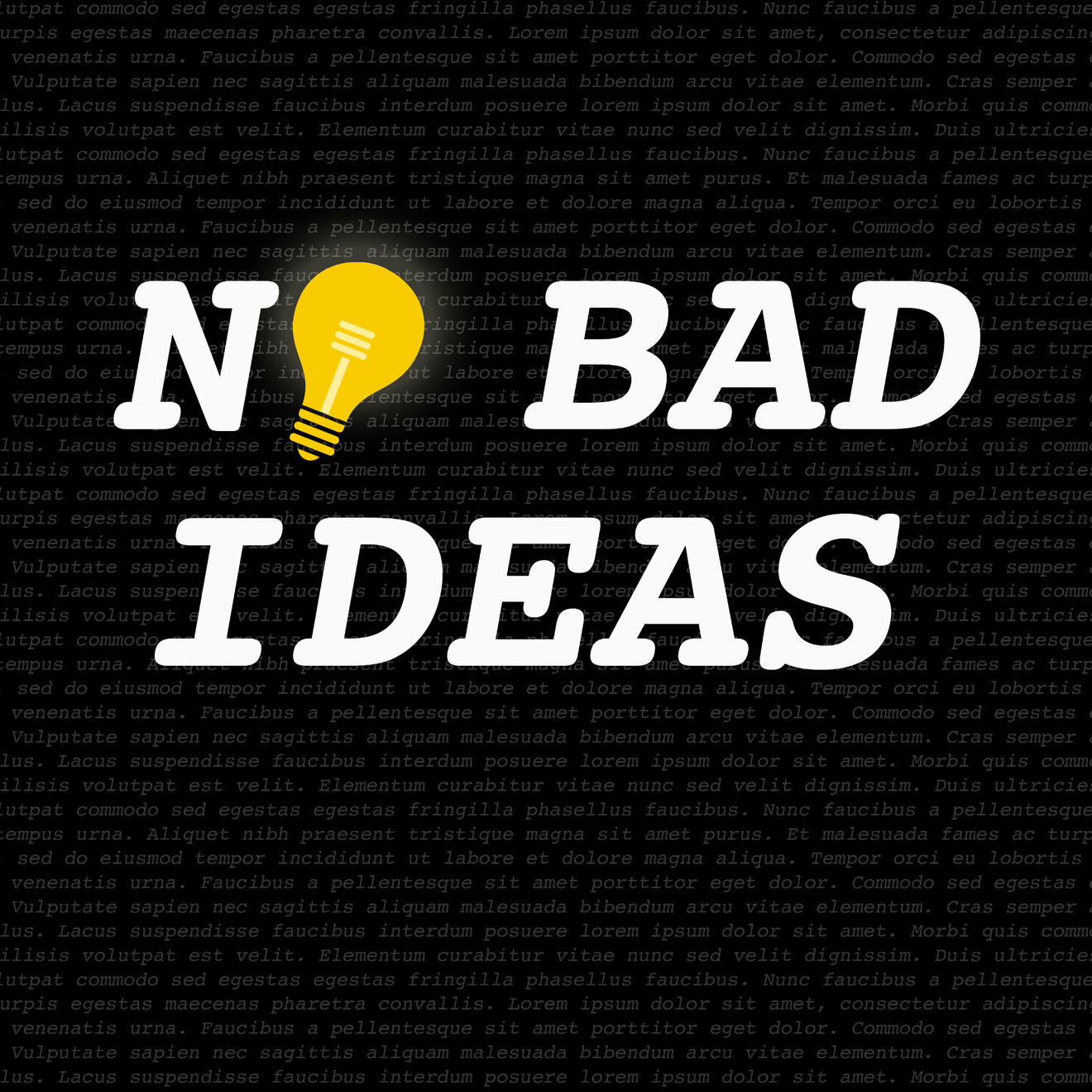 Subscribe
"No Bad Ideas"
Of course there are bad ideas. Like, a lot of them.
But any idea can become a good story.
About
No Bad Ideas is a storytelling gameshow where we take the worst ideas from the Internet and try to turn them into stories that are actually good.

It's the creation of Gabriel Urbina, Sarah Shachat, and Zach Valenti, three writer and artist-types who, in order to stay fresh creatively, have an excuse to hang out with each other once a week, and check in on what they're working on, take a terrible idea they found on the Internet each week and turn it into a compelling narrative. Or as close as they can get in 30 minutes.

If you're someone trying to be creative yourself or even if you just appreciate a good story, you'll enjoy listening to Zach, Sarah, and Gabriel figure out how to make sense of the best (worst?) absurdities the Internet has to offer. We guarantee there have definitely been worse ideas.
Episodes
This week, coming just after Thanksgiving in the US, we're grateful we get to play with, but not actually been involved in, any of the following ideas. First, Zach takes us to Japan, and specifically to a hotel room that's a heck of a bargain, but comes with an Internet audience of thousands of voyeurs. Next, Gabriel drives us to Utah, where ten very special billboard near Salt Lake City are getting a response from thousands of women. Finally, Sarah launches into the deep end of celebrity fakes, with a roundtable of Hollywood bigwigs that's way overproduced.

Plus: the divorce force, trapeze bears and other millionaire things, eyeing Paul Rudd suspiciously, and going through the motions of being Sting.

Today's Bad Ideas™:

Idea #1

Idea #2

Idea #3
Transcript Coming Soon!
Avast! This week on No Bad Ideas, giant clocks, South American dictators, and pirates!

First, Gabriel takes us to the British town of Penzance, where a piratical rivalry has spiraled completely out of control. Then, Sarah takes us to Bolivia, where Apple's Siri is taking an unexpected political stance. Finally, Zach takes us to the depths of a hollowed-out mountain in Texas, where we embark on a truly ambitious journey through time with a clock built to last. 

Plus, the high seas, peacekeeping troops, future generations of humans, and babies with eyepatches.

Today's Bad Ideas™:
Idea #1

Idea #2

Idea #3
This week, the NBI crew talks through three very different walks on the wild side. First, Sarah takes us into Northern Colombia, where a new invasive species has taken to the rainforest has great brand tie-in potential. Then, Zach sends us into the seedy underworld of animal shelters, and a cat able to open doors and break all his buddies out. Finally, Gabriel offers us a special kind of free funeral: a funeral for the living.

Plus, cocaine hippos, connecting with your inner tiger, snap judgements set to high, and a slow-burning pot-boiler.

Today's Bad Ideas™:
Idea #1

Idea #2

Idea #3
Transcript Coming Soon!
This week on No Bad Ideas: photo manipulation, funerary pranks, and utter inability to stop loved ones from making questionable choices.

On the first idea this episode, Gabriel brings us the story of how a photoshopped sailor hat brought together a police department and the fugitive they'd been looking for. Then, Sarah brings us a delightfully dark tale about a man taking the reigns at his own funeral through a carefully engineered "buried alive" joke. And, finally, Zach tries to out-do his last bad idea involving lions, this time with the story of a woman taunting a one of the big cats at the Bronx Zoo from within its own enclosure.

All of that, plus rawrtongue, murder mystery parties, artistic perfectionism, and increasingly ridiculous costumes. 

Today's Bad Ideas™:

Idea #1

Idea #2

Idea #3

Transcript Coming Soon!
This week on No Bad Ideas: snakes, mysterious objects from space, and the world's creepiest dolls!

On our first idea this week, Zach brings us the story of a petty theft that slithers in all the wrong directions. Then, Sarah shares the tale of a space selfie gone terribly, terribly wrong, which leads to a series of kids' adventures with a portal-creating phone. Finally, Gabriel subjects everyone to a museum that is hosting a competition to find the world's creepiest dolls, which spawns a mockumentary unlike anything the world has ever seen.

Plus: Cara Delevingne, Contestant 953, photos that will keep you up at night, and amazing things happening on Samsung screens. 

Today's Bad Ideas™:

Idea #1

Idea #2

Idea #3

Transcript Coming Soon!
We're back this week to our regularly scheduled, awful no-good terrible ideas! First, courtesy of Sarah, we plumb the depths to which some thieves will go to steal pieces of modern art: in this case, a solid gold toilet. Next, thanks to Zach, we engage with the horrifying potential of crowd-sourcing all the information that can be hidden in a selfie. Then, the three of us sit down and talk about how Zero Hours, our new anthology fiction podcast, came together.

Plus: a bad day at Monte Carlo, Lord Whoever Whoever's Wallet, social media sleuthing, an online mob in action, and the difference between a sketchy plumber... and a plumber.

Today's Bad Ideas™:

Idea #1
Idea #2

Check out Zero Hours wherever fine podcasts are found!

Note: The second idea we discuss contains a fairly intense case of stalking and cyber-bullying. If you want to skip it, pause the episode at 21:30 and start it back up again at 36:00.
Transcripts coming soon!
This week, we're lucky to be joined by the luminous Emma Sherr-Ziarko - voice actor, writer, podcast creator, wine expert, and cat mom extraordinaire. There's nothing Emma can't do, so naturally we decided to throw some truly questionable ideas at her!

First Gabriel takes us to A Short Time Ago and A Galaxy Very Close, with a very unorthodox candidate for high public office who claims to be able to slice through the red tape and get things done - with a lightsaber. Then Sarah sails us down to the Indian Ocean, and a very special rock concert designed for an audience that really has teeth - five to six layers of them.

And finally we talk to Emma about her love of storytelling, how learning about wine has taught her more about the world, and what it takes to start a podcast.

Plus: literal satire, delusional doors, Emperors of America, many, many, jumping the shark jokes, and one last really stupid thing. 

Today's Bad Ideas™:
Idea #1
Idea #2
Transcripts Coming Soon!
Another week, another series of the limits of three humans' endurance to spin stories from bad ideas they saw on the Internet!

This week, things get weird. First, Gabriel brings us a story of emotional support taken to its most comical extreme in the most unlikely of circumstances. Then, Zach brings us a tale of the malfunction of both elevators and empathy on the Upper East Side. Finally, Sarah flies us to the (most intentionally) strange hotel in Japan, with a staff that proves automation isn't quite here yet.

Plus: Joaquin Phoenix's next role, the Most Dangerous Game terrarium, cancelling the cancelling, and things we're not going to do to children.

Today's Bad Ideas™:
Idea #1
Idea #2
Idea #3
Transcripts Coming Soon
We're so delighted to be joined this week by Erin Jones, author of the fabulous YA novel Tinfoil Crowns, and now author of a couple adaptations of very bad ideas, alongside Gabriel, Sarah, and Zach!

The first idea comes to us courtesy of Gabriel, in which a man is mistaken for someone else with his name… a someone else who's been court-ordered to move out of his parents' home.

The second is something we never asked for but Sarah delivered: what happens when a waste management train breaks down outside of a small Alabama town… and just sits there. For months.

Finally, we talk to Erin about the process of writing a novel, the terror of staring down a blank page, and the power of deadlines.

Plus, Macaroni Grumpy Cats, Twitch-streaming tea parties, literal sh*tstorms, and the sweet smell of death.

You can check out more of Erin's work through her website, or follow her on Twitter. And, Tinfoil Crowns is available to purchase wherever fine books are sold.

Today's Bad Ideas™:
Bad Idea #1

Bad Idea #2
Transcripts Coming Soon
This week on no bad ideas: cops, donuts, IKEA, hide-and-seek, and special guest star Rebecca Seidel! 

While Zach's away, Gabriel and Sarah get to play with Rebecca, audio producer extraordinaire at Marvel. Together, they turn the story of an ill-advised wager with the police into a twisted tale of a small town terrorized by an all-powerful performance artist troll. Then, IKEA's firm stance on people not playing hide-and-seek in their stores gets reworked into a harrowing graphic novel of psychological terror and survival in the face of truly unsettling odds. 

Plus, creepy Stephen King books, ice cream truck jingles, police pranks, and other misdemeanors. 

Today's Bad Ideas™:

Idea #1

Idea #2

To check out more of Rebecca's work, say hi to her on Twitter, @BeccaHope24, or visit her website!
This week on No Bad Ideas: breakups, questionable GPS routes, and all kinds of dough!

First off, Gabriel's story about a museum for all those objects that remind you of failed relationships (but which you can't quite let go of) gives birth to a twisty tale of mystery that involves a much more literal stroll down memory lane. Then, Zach's story of a GPS route gone horribly awry and the dozens that blindly followed it gets reshaped into the Rat Race reboot that we all need right now. Finally, Sarah's story of a daring inside job at a trendy boutique bakery leads to yet another story designed to poke fun at our favorite punching bag: toxic masculinity.

Plus, all the things that Gabriel loves: sadness, memory shenanigans, mystery, and making fun of LA. 

Today's Bad Ideas™:

Idea #1

Idea #2

Idea #3
This week, a series of extreme challenges for the No Bad Ideas crew! First, Sarah lets us know about a government initiative to find a new giant secret lair - for completely legitimate research purposes, of course. Then Gabriel clues us into the one (horrifying) way you can find affordable housing on the Lower East Side of Manhattan. And finally, Zach takes us on a trip to the Granite State, where New Hampshire's "Live Free Or Die" motto may or may not apply to personalized license plates.

Plus, crowdsourcing taken to its logical extreme, running away from an Instagram shame campaign, why you never cross the picket fence, and Project Daedalus getting off to a great start.

Today's Bad Ideas™:

Idea #1

Idea #2

Idea#3
This week on no bad ideas: postal office shenanigans, reptilian interlopers, and Space Crimes! 

First off, Gabriel brings us the story of a man's surprisingly simple, yet devastatingly effective defrauding of UPS. Then, Zach's outrageously bad idea, featuring oversized snakes and over-engineered doorbells, leads to a terrifying "I Know What You Did Last Summer"-style thriller. Finally, Sarah's story of the first crime being committed in space inspires our first sitcom idea, featuring an acrimoniously divorced couple that's forced back together in an ever-lengthening assignment at the International Space Station.

Plus, unassuming postal workers, a detailed map of America, headlines that deliver, and people growing weary of snakes.

Today's Bad Ideas™: 

Idea #1

Idea #2

Idea #3
Don't worry. We're not here to share the greatest story ever told, just to turn some bad ideas into better stories!

First, Zach has us Hoots-ing and hollering over a famous case of fast food litigation that still haunts both an Illinois town and law school classrooms across the country. Next, Gabriel regales us with stories of the most extreme (and yet somehow also the most unsurprising) things that a French performance artist has done in the past decade. Finally, Sarah lets us know all about a cunning new Chrome extension designed to help you waste even more time at work… and chill. 

Plus: the dumb Arnold Schwarzenegger movie, a farewell to sympathy, the most French thing we've ever heard, and no step at all for mankind!




Today's Bad Ideas™:

Idea #1

Idea #2

Idea #3
Transcript Coming Soon!
Today on No Bad Ideas, the team goes to prison, gets mixed up in a housing dispute, and explores the untapped potential of using avocados as thermal detonators.

First, a Brazilian drug lord's unusual attempt to escape from prison makes way for the strangest reboot of Some Like It Hot that anyone's ever come up with. Then, a story of truly stunning passive-aggression between neighbors gets turned into a war of gauche escalation. Finally, an inventive bank robber's fruity adventures inspire a story of accidental crime and inevitable punishment. 

All of that, plus, the many weaknesses of hyper-masculine culture, extreme ways to send a message, and many a forced avocado pun. 

Today's Bad Ideas™: 

Idea #1

Idea #2

Idea #3
Transcript Coming Soon!
This week, the team brings you some bad ideas of monumental proportions, a culinary tale like none you've dug up before, and definitive proof that real criminals have curves.

First, an article about how human diets are affecting Toronto's raccoon population inspires the story of a wide-eyed, small-town raccoon chef struggling to make his dreams of culinary superstardom in the big city come true. Then, the story of a truly bizarre heist leads to a twisted tale of crime, fashion, and modern art. Finally, one sculpture's massively strange designs for his massive sculpture give way to a very familiar story with a very cold-blooded twist ending!

All of that, plus, body positivity among small furry mammals, a fajas ATM, (not) another Indiana Jones ripoff, and a tentacle-filled "A-Ha!" moment. 

Today's Bad Ideas™:

Idea #1

Idea #2

Idea #3
Transcript Coming Soon!
We're honored to be joined this week by our friend, actor extraordinaire and the official Bad Ideas Bat, Mr. Zach Libresco! Zach brings his incredible intelligence and humor to a pair of truly awful notions from the Internet, and then shares his perspective on craft and inspiration, and what it means to be really present.

But before all the philosophy, Zach Valenti introduces us to an ancient Athenian who lives (and dies!) for the applause; and Gabriel invites us to the quite diabolical rock-and-roll scene in Springfield, Illinois. Plus, #commentary, new death goals, it always being about the goats, and a Satan played by Judi Dench.

Today's Bad Ideas™:

Idea #1

Idea #2

To check out more of Zach Libresco's work, say hi to him on his twitter, @ZachLibresco, or explore his website!
Transcript Coming Soon!
Content Warning: The first story this week involves Nazi paraphernalia and war, and the second story centers on sterilization and eugenics. Check out the time-codes below if you want skip one or both of them.

With Sarah gone and a pair of pretty grim-dark ideas on the table, who else would Gabriel and Zach call to join them but dungeon master extraordinaire Josh Perault of the Taking Initiative podcast! First, Gabriel brings us to a nice little German town where a nice German man lives in seclusion... with his basement full of Nazi weaponry and a 45-ton Panzer tank? Then Zach maybe sets a new record for the badness of an idea with a family saga that has everything: betrayal, courtroom drama, vast inheritable fortunes, and (sigh) eugenics and sterilization. Then the guys ask Josh for some of his - very good! - ideas about writing, and reflect on things they've all learned in their journeys as storytellers. Plus: Severus Snape situations, Irishman Joey McGuffin, rewriting history the way that we want, and the dirty business of funding chaos.

Today's Bad Ideas™:

Idea #1 - Begins at 05:27, Ends at 19:11

Idea #2 - Begins at 22:49, Ends at 42:07

Find Josh at  @XiroxisTheBeard on Twitter, and Taking Initiative on their website and wherever fine podcasts are sold.
Transcript Coming Soon!
For appetizers, Gabriel brings us Fear and Loathing in Logan, Colorado, where we discover an amazing cocktail of whiskey, a rattle snake, and powdered uranium in a stolen automobile.

Sarah follows up with a less bizarre - but equally horrifying - plane story for our entrée, one that makes Zach curse a record number of times before the end of the article.

And, finally, for dessert, a silly, Olympic-sized fail that we hastily cram into a train.

Here's to that feel when uranium is any card in a local situation, when no one else is locked into the pitch-black plane with you, and nobody appreciates your gravity-defying leaps.

Today's Bad Ideas™:

Idea #1

Idea #2

Idea #3
Transcript Coming Soon!
This week, we're joined in the studio by Lindsay Amer of Queer Kids Stuff for two bad ideas and a roundtable discussion.

First, we bring a Scooby-Doo-style ghost hunting gang into the YouTube Era as they form an unlikely alliance with an eccentric horror writer fighting off the bank from foreclosing his historically haunted mansion.

Next, faced with an animal rights nightmare from the 1930s, we avoid "Green-Booking" the situation with Hugh Jackman and look for a more nuanced way to approach people with lions in motorcycles racing on walls in the circus with a non-zero amount of mauling.

Finally, we chat with Lindsay about finding universality as storytellers and get a sneak peek into her new fiction storytelling projects.

Today's Bad Ideas™:

Idea #1

Idea #2

Today's Idea Worth Sharing By Lindsay (AKA Her TED Talk):

https://www.ted.com/talks/lindsayamerwhykidsneedtolearnaboutgenderandsexuality?language=en
Transcript Coming Soon!
This week, Sarah, Gabriel, and Zach prove once again the mind-meld is real as we find ourselves with a full set of body-horror bad ideas.

First, we delve into some Cthulhu shit after finding too many teeth in too many walls. Next, we plot out the scam of the century - just not this century - and, boy, does it get hairy. Finally, will we find a way to parlay the grim origin of the chainsaw into a satisfying story?

Plus, a dark god seeking an avatar body, Gunther screwing up again, and stories safest in print.

Today's Bad Ideas™:

Idea #1

Idea #2

Idea #3
Transcript Coming Soon!
This week, Sarah and Zach are joined once again by Gabriel, returned from vacation.

First, we explore all our A.I. feels and once again crib from one of our eternal faves, Gattaca, with a robot that must pretend to be human to follow its dreams. Then, we go through the Snapchat-looking-glass to discover the Grumpy Cat of politics. And then we explore what happens when a small community tries to get rid of time… just for a bit. Plus, mistaking cat pictures for guacamole, a day with no end, cat filtering deep fakes, and a non-zero amount of people yelling at this podcast.

Today's Bad Ideas™:

Idea #1

Idea #2

Idea #3
Transcript Coming Soon!
This week, Sarah and Zach are joined by the multi-faceted podcaster and wrestler Julia Schifini, of Multitude and The Whisperforge.

First, one of the more delightfully creepy turns we've had in a bit as we transform a poorly placed 911 call into a full-blown Sweeney Todd situation. Then, one of the most objectively dangerous ideas we've had to-date, inspiring a very Nick Cage like spectrum of emotions. Plus, an unstoppable casual dining for cannibals, real guns being unfortunately less expensive than prop guns, and the 411 on #20FightTeen.

Today's Bad Ideas™:

Idea #1

Idea #2

Follow Julia over on Twitter and check out her podcast, Spirits, wherever quality podcasts are sold.
Transcript Coming Soon!
This week, Gabriel is away but Sarah and Zach are joined by none other than voiceover actor and writer Kristen DiMercurio, of Ars Paradoxica and Archive 81 fame. Kristen helps us tackle a pair of true-life tales. First, one of the silliest bad ideas we've had in a while, why a hippie community police force has a very specific agenda for Ann Arbor, MI. Then, one of the most objectively bad ideas we've had in a while, why tourists taking selfies on indigenous monuments means we can't have nice things. Plus, Wes Anderson vibes, secret Instagrams, completely imagined crimes, and Ellen Degeneres: Gay Santa.

Today's Bad Ideas™:

Idea #1

Idea #2

Follow Kristen over on Twitter and check out the new audiobook she narrated, These Witches Don't Burn, wherever fine audiobooks are sold.
Transcript Coming Soon!
Welcome to Episode 30! The gang celebrates this completely arbitrary milestone by picking three awful ideas to throw at each other for ten minutes each. First, Sarah challenges the boys to see what they can make of the power of free beer. Then, Zach clues us all into a possible supernatural conspiracy in the halls of New Zealand's government. And finally, Gabriel gifts Zach and Sarah with a completely legitimate golden ticket and its $500 price tag. Plus Gabriel's Australian accent, Zach's cover of Twisted Sister, and Sarah's desire to shoehorn kegs into all the action sequences.

Today's Bad Ideas™:
Bad Idea #1
Bad Idea #2
Bad Idea #3
Transcripts coming soon!
Our May experiments continue with two of the grossest, most horrifying, and most hilarious ideas the gang has tackled yet. With only fifteen minutes on the clock, first Sarah and Gabriel have to grapple with an unusual, alchemical way to get rich quick from Zach. Then Zach and Sarah have to contend with a startling home invasion story courtesy of Gabriel. Plus, the historical applications of urine, a cackling Alexa, late stage capitalism, and, obviously, a full page ad in Goop.

Today's Bad Ideas™: 

Phosphorus Starts With Pee

Oregon Man Called Police About A Burglar, Armed Officers Found A Rogue Roomba
Transcripts Coming Soon!
In this episode of No Bad Ideas, an experiment! In an effort to shake things up, the gang has brought not one, not two, but three bad ideas to the table and will try to turn each of them into stories in just ten minutes. How will our heroes cope with a criminal's job interview, a library full of taxidermic animals, and the perils of pulling over an undercover cop? You'll just have to listen to find out. Plus, sleep-stealing, the punishment for fracking, yet another deeply traumatizing family movie, and our favorite superhero, Florida Man.

Links:

Dumb Robber Interviews For A Job At Police Station

This Library in Anchorage Lends Out Taxidermic Specimens

Florida Man Pretended To Be An Officer

Let us know what you think of this episode format by getting in touch with us @feartheshame on Twitter.
Transcripts Coming Soon!
About Us
Gabriel Urbina - Gabriel Urbina is a Costa Rican-American writer, filmmaker, and science fiction lover. When he's not too busy taking dictation from the voices in his head, Gabriel juggles, has strong opinions about movies, and sleepwalks an alarming amount. He lives in Brooklyn. Learn more about him on his website and follow him on Twitter.

Sarah Shachat - Sarah Shachat is a writer and editor from New Orleans, even though she doesn't sound like it. She writes audio fiction, creative nonfiction, picks apart old films and tv shows, and drinks a lot of black tea. She knows, she knows, she doesn't have a website, but you can say hi to her on Twitter.

Zach Valenti - Zach Valenti is an artist and entrepreneur based in New York City. He is currently working as a filmmaker, author, voiceover artist, and full-time nerd. Learn more about Zach on his website and follow him on Twitter.
Music in No Bad Ideas comes from State Shirt and Jahzzar via Free Music Archive.